Designed for enterprises with the greatest mobile challenges, the Memor 20 is a full-touch device that delivers ruggedness, power and performance in a smartphone form factor with the user-friendly experience of Android™.
With its powerful Qualcomm processor, efficient battery management, dual SIM and GPS localization, and ultimate connectivity capabilities, the Memor 20 guarantees a superior and long-lasting performance in the palm of your hands in an always connected world.
This innovative device, designed and developed to be Enterprise-ready, also incorporates Datalogic's industry-first wireless charging system for ultra-reliable contactless charging, paired with a 1-piece swappable battery for the best operational advantage in 24/7 conditions.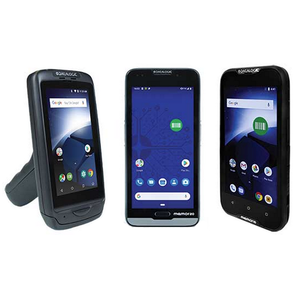 FEATURES
Industry use

Retail: assisted sales, inventory, shop floor applications, mobile POS
Transport & Logistics: route accounting, direct store delivery, workforce management, courier value-added services
Manufacturing: production and quality control, remote maintenance and tech support, intra-logistics, inventory
Healthcare: bedside care, home/remote care, pharmacy/labs, inventory management

5.7" Full HD display in 18:9 ratio with Gorilla™ hardened glass
Wireless charging
Ruggedized with drop resistance to 1.8 m / 6 ft to concrete and IP65/67 sealing
Qualcomm Snapdragom SD660 octa-core, 2.2 GHz
Fingerprint sensor for secure user authentication
TECHNICAL SPECIFICATION
Name/Label
Memor 20
Manufacturer
Datalogic, Italy
Dimensions (WxHxD)
7.97x17x1.92 cm
Weight
w/ battery 295g
Display
5.7″ LTPS in 18:9 format – FHD resolution 1080 x 2160; LED backlight
Second display on top for enriched Android notifications: 0.7″ POLED
Touch Panel
Touch Screen: 5 points multi-touch capacitive panel with hardened Gorilla Glass 3; Support for gloves and stylus
Power
1 piece swappable battery pack with rechargeable Li-Ion
batteries
3.85v
Rated 3,900 mAh, 15 Watt-hours (typical
4,100 mAh)
'SafeSwap' for application data protection
Accessories
Single Slot Dock (charge only); locking and USB
3-slot Dock charge only, locking and ethernet
Multi battery charger
Vehicle dock
Attachable pistol grip
Rubber boot
SIM Slots
Dual SIM Slot: Nano SIM
Decoding Capability
1D/Linear, 2D, Postal Codes, Stacked Codes, Digital Watermark Codes
Wireless Charging
WPC Qi EPP compliant; 15W fast charging
Interface Ports
USB-C: High Speed USB 3.1 gen1 Host and Client; Gigabit Ethernet connectivity (via 3-slot dock)
CPU
Qualcomm SD660 Octa-core 2.2 GHz
Operating System
Android v9.0 (Pie) GMS
Memory (RAM/Flash)
System RAM: 4 GB
eMMC Flash: 64 GB
Drop Specification
Withstands drops from 1.8 m onto concrete (with rubber boot)
Withstands drops from 1.2 m onto concrete (without rubber boot)
Tested onto steel /concrete according to IEC 60068-2-32 method 1 and MIL-STD-810G
Transit drop test
Sealing
IP65 and IP67
Sensors
Vibration – Software programmable for duration and intensity
Accelerometer – 3-Axis accelerometer to detect orientation
Gyroscope – Senses angular velocity
Ambient Light – Auto adjusts display backlight
Proximity – Auto deactivates display when close to face
Biometrics – Capacitive Fingerprint Sensor; 5 fingerprints per user up to 5 users
Data Capture
Camera – rear camera (resolution 13MP, illumination, LED flash, lens, auto focus), fron camera (resolution 8MP, fixed focus)
Scan Engine – Halogen DE2102 scan engine (2D ultra slim area imager, Green Spot, resolution 1280×800)
Print Contrast (Minimum) – 25%
Wireless Communications
Local Area Network (WLAN)
Personal Area Network (WPAN)
NFC
WWAN/Cellular
GPS