As of January 1 2023, Croatia is expected to introduce the euro as its new national currency. In cooperation with our partner ANKER, we offer professional solutions for cash management compatible with the euro currency. ANKER cash cassettes and cash drawers provide an ideal layout with practical volume for the euro currency
We invite you to check out our attractive promotions for cash cassettes and drawers valid until December 31, 2022.
ANKER ECC Euro Cash Cassette
Robust flip-top cassette

Up to 9 coin compartments, 5 note compartments, 1 cheque compartment, 1 slip compartment

Dimensions: 482 x 175 x 100 mm (W x D x H)

Standard connection for cash register printer
With the Euro cash box, the name says it all. The popular cash box is ideal for use with the euro currency. The layout is ideal for efficient work. Receipts and other documents can be fed quickly and easily through the insertion slot. The sturdy housing is made of unbreakable ABS plastic. Employees can easily insert the cassette into the base and it is immediately ready for use.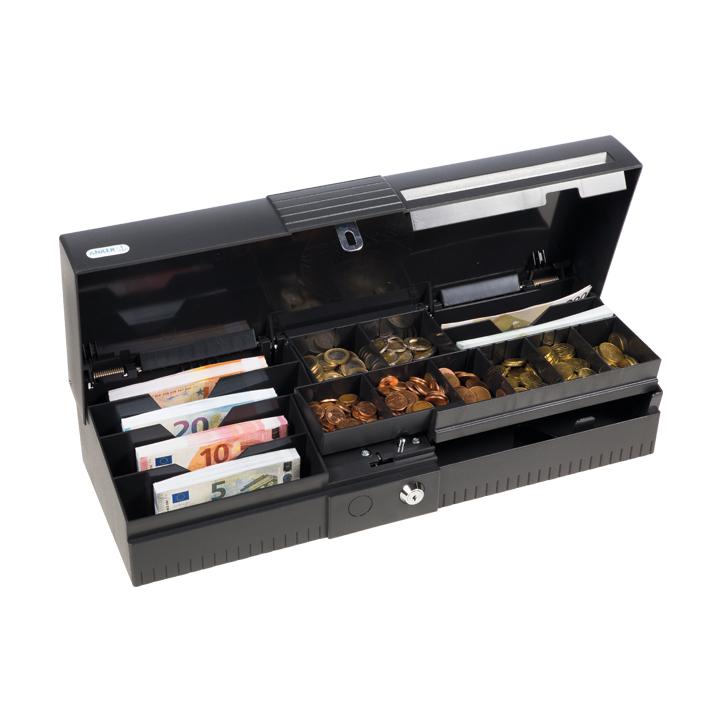 ANKER SCCneo Standard Cash Cassette
An ANKER bestseller – now further optimised !

Up to 8 coin, 4/5 note compartments

Dimensions: 459 x 155 x 100 mm (W x D x H)

Optionally with 8 or 9 calibrated Coin Cups

Robust plastic design with long service life
With the SCCneo ANKER presents a worthy successor with all the advantages of the SCCplus cash cassette and the functional plus points of the OCC. The proven SCC cash cassette is one of the most popular products from ANKER and has established itself in the POS world with its durability and high-quality workmanship. The optimised design prevents dirt from settling thanks to the "Easyclean" surface and the covered base now also offers less accumulation of dirt. The new SCC fits on all already installed SCC base plates. The accessories from the predecessors are 100% compatible.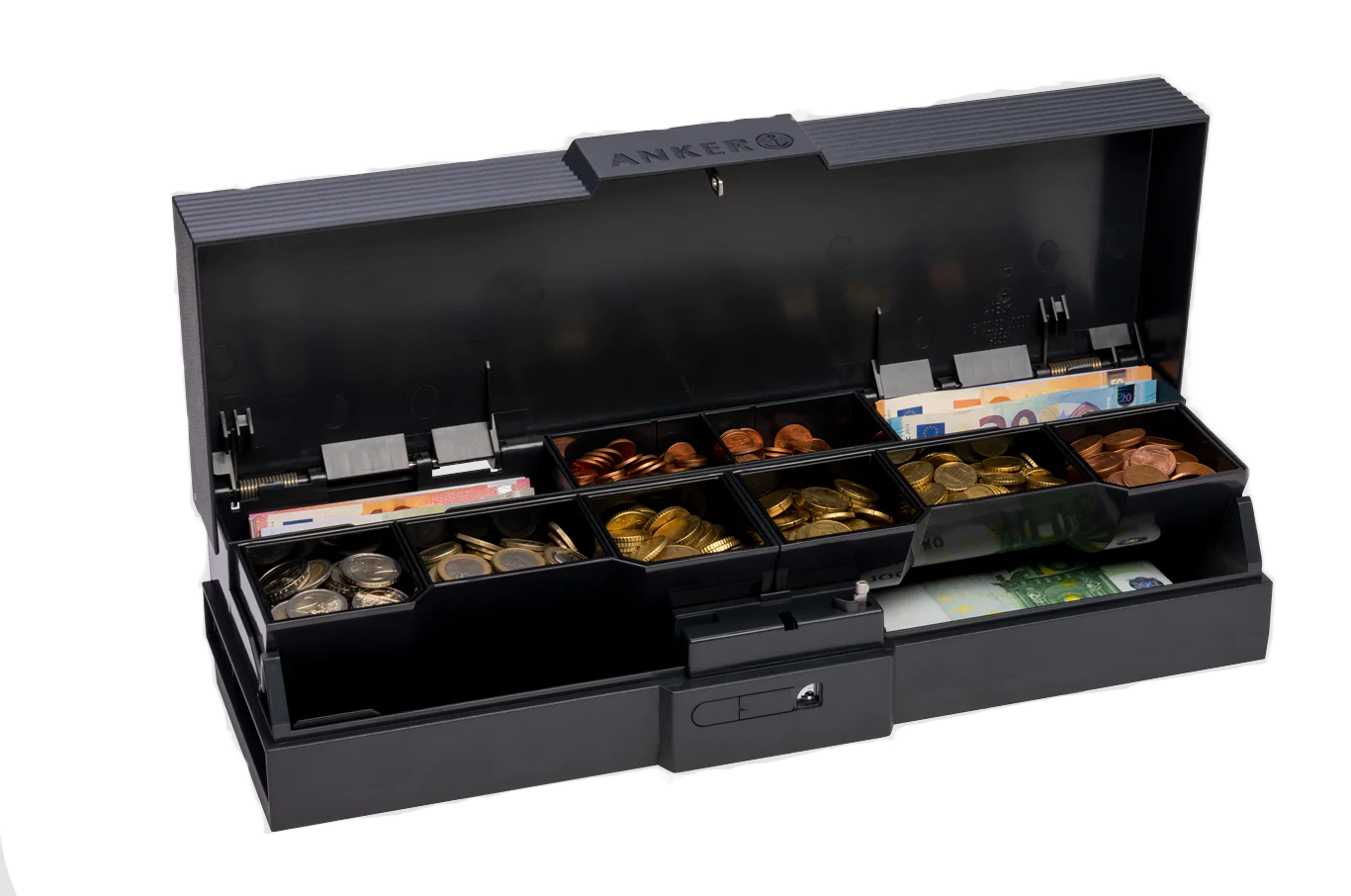 ANKER OCC OmniOption Cash Cassette
Durable cassette for all currencies

Very flexible interior partitioning due to pluggable side panels

Dimensions: 459 x 100 x 155

Up to 8 coin compartments, 4 note compartments, 1 slip compartment

Quality lock and optional security mortise lock
All the requirements for design, flexibility, compatibility and security of a modern cash box are more than met with our ANKER OmniOption cash box OCC. It consists of a robust plastic housing and a flexible interior layout. Electronically controlled directly by the POS system, the OCC can be flexibly adapted to your needs and processes. Whether completely without a lock or equipped with a quality lock – the choice is yours. Additional security is provided by an optional security lock. In an endurance test by an independent institute, the OCC managed 4.2 million opening cycles without any problems.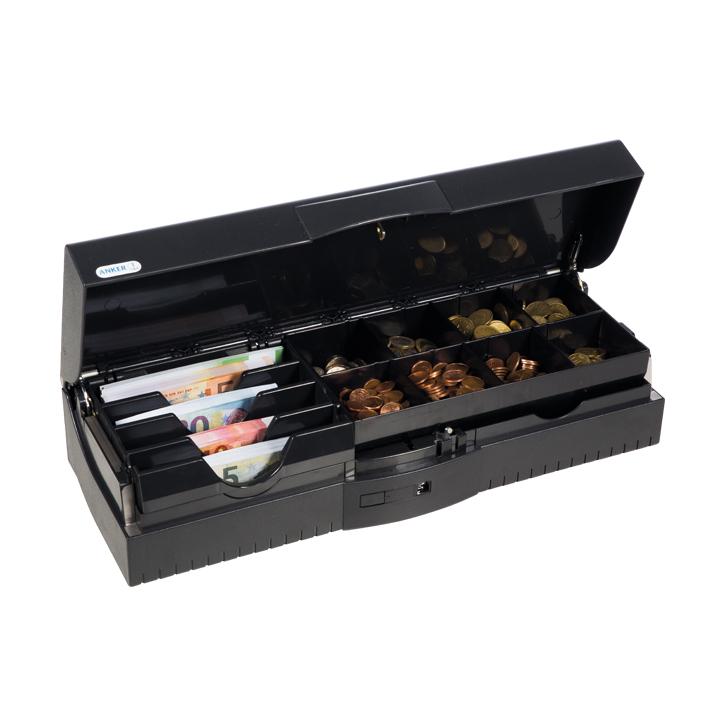 ANKER MDX13E Cash drawer
Sturdy metal drawer optimised for use with Euro

Dimensions: 330 x 360 x 100

8 coin compartments, 5 note compartments

Ideal entry-level model
Optimised for use with euro coins and notes, the MDX13E is the compact entry-level model for any cash desk. The practical drawer interior design with a two-part insert offers space for 8 coin and 5 note compartments. The drawer has one pull-out with ball-bearing slides. It can be conveniently controlled via RJ11/ RJ12 interface or other compatible systems. The attractive price-performance ratio makes it an ideal product solution for all standard applications at the point of sale.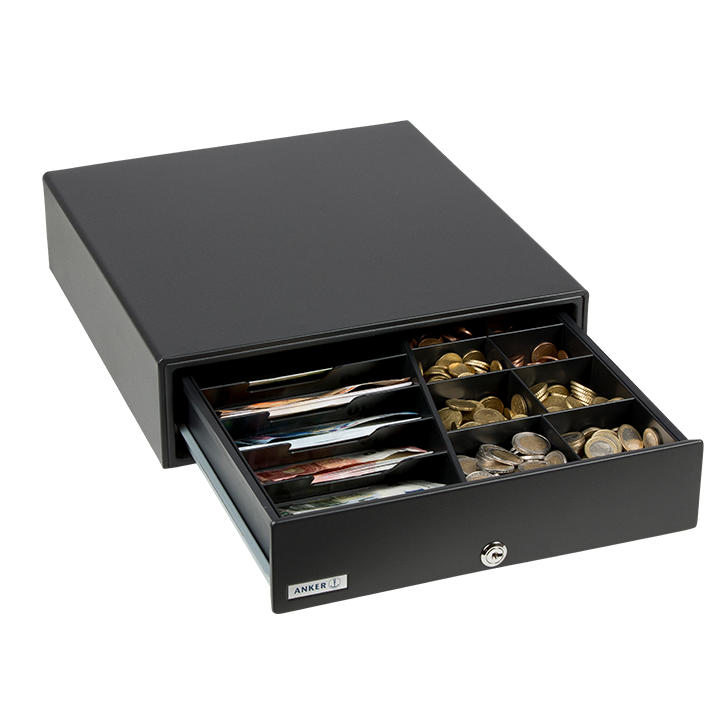 ANKER MDX18 Cash drawer
En bloc removable insert

Dimensions: 440 x 460 x 115

8 coin compartments, 5 note compartments, 2 insertion slots

Also available as push variant
The cost-efficient cash drawer with many advantages! Four coin compartments can be adjusted in size and the coin insert can be removed separately. The complete cash insert can also be removed en bloc. Two practical slots for receipts and vouchers increase the drawer's functionality. The metal construction, the guidance of the pull-out via ball-bearing runners and the 3-position cylinder lock with two keys for theft-proof use underline the high-quality design of the product. The MDX18 is the large, cost-effective cash drawer for your point of sale!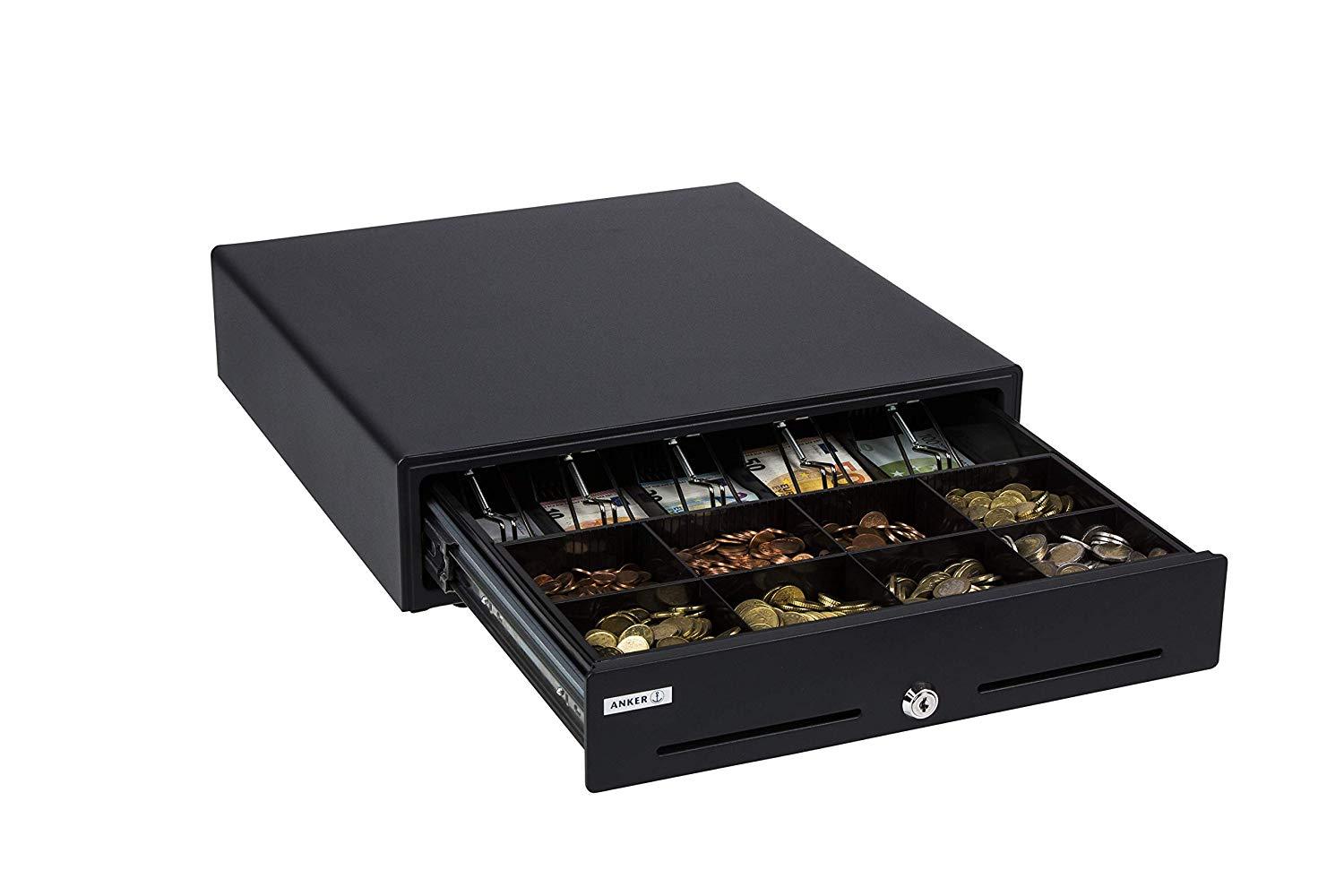 Contact For More Information About

Promotions!